About MichAEl J. Andreoli
Michael J. Andreoli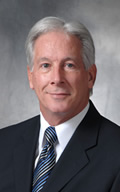 A long-time Boone County resident, Michael Andreoli has practiced law at the former Donaldson, Andreoli & Truitt - then Andreoli & Jacob and now the Andreoli Law Office since 1978.
Mike has a B.S. Business from Indiana University, 1970, J.D. Indiana University School of Law, 1973, Admitted to Indiana Bar in 1974.
County Attorney, Boone County, Indiana 1979-91, Attorney for: Boone County Board of Zoning Appeals, 1979-89, Boone County Drainage Board, 1979-86, Zionsville Parks Board, 1979-86, Town Attorney, Zionsville, Indiana, 1979-86.
Member: Indianapolis, Boone County (President, 1982-83), Indiana State (Delegate 1978-91) and American Bar Associations.
Email Michael Andreoli
Jayne Brickey
Paula Jayne Brickey ("Jayne") has been Mike's paralegal for twenty-seven (27) years and has earned the respect of the Courts and other attorneys for her professionalism and attention to detail.
Email Jayne Brickey